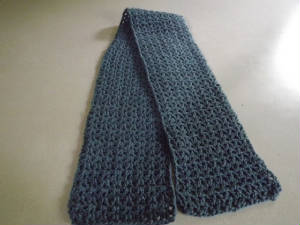 V-Stich Scarf
Materials
5 1/2 oz worsted weight yarn
Size I hook
Measurements
6 ½ inches wide by 46 ¾ inches long or desired length
Abbreviations
Chain Chain
Dc Double Crochet
Sl St Slip Stitch
Sp Space
Instructions
Ch 28 loosely.
Row 1: (Dc, ch 1, dc) in the fifth ch from hook (V-st made). *skip the next 2 chs, work a V-st in next ch. Repeat from * across to the last 2 ch, dc in last ch. (8 V-sts).
Row 2: Ch 3, turn. (Counts as turning chain and first dc). Work a V-st in each ch 1 sp across, dc in top of beginning ch.
Row 3–83: Repeat Row 2 for 81 rows or until the scarf is the desired length.
Feel free to use the pattern for both home use and if you'd like to sell the scarf itself. Feel free to add a link to your website or blog, but please do not copy the pattern itself to your site. It is covered by Copyright law and is the property of Barb's Crochet.
If you enjoyed crocheting this pattern, you might enjoy the scarf that is completed with all V-stitches.