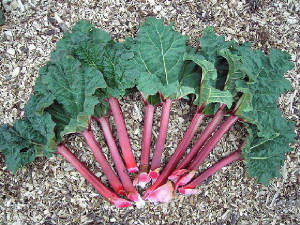 Photo from Wikipedia Commons
Rhubarb is one of those foods that you either love or hate. Due to its acidic content, it has a tart flavor unless sugar or another sweetener is used. Rhubarb has many health benefits.
Most cooks use rhubarb in pies, but some like it plain. It is often known as the pie plant. Some people enjoy eating it raw. I've found that you can make rhubarb bread, rhubarb pickles, salads, candy and many more items. At home we only ate it as pies and cooked plain with sugar added. As a kid I ate it raw.
Rhubarb was first used in China. The stems are the part of the plant eaten. They look like a stalk of celery that is red, but it has large leaves rather than the small leaves that celery has. The leaves and roots of the rhubarb plant are toxic and can't be eaten.
One cup of rhubarb contains only 26 calories if no sweetener is added. If you like it raw, it would be a great food to eat for anyone that would like to loose weight.
Rhubarb is a good source of fiber. Just 1/2 of cup of rhubarb has 2.5 grams of fiber. Fiber helps keep our digestive tracts running normally and helps prevent colon cancer.
Not surprisingly, it is also a good source of Vitamin C. Since it is an antioxidant it helps protect our bodies. It is needed for normal health and development. Vitamin C is needed for wound healing and health. Every cup of rhubarb contains 10 mg of Vitamin C. The red rhubarb has more vitamin C then the rhubarb that is more green colored.
Rhubarb is also a source of Vitamin K, calcium, and lutien,
Rhubarb Crunch
1 c flour
¾ c oatmeal
½ c melted butter or margarine
1 c brown sugar
¾ tsp cinnamon
6 c diced rhubarb
1 1/2 c sugar
3 Tbsp cornstarch
1½ c water
1 tsp vanilla
1. Preheat oven to 350 degrees.
2. Combine flour and the oatmeal in a mixing bowl.
3. Stir in the butter, brown sugar, and cinnamon until the mixture is crumbly.
4. Place ¾ of the crumb mixture in a 13" x 9" baking pan and pack down to make crust.
5. Add 6 c of the raw rhubarb over the crust.
6. In a pan cook the sugar, cornstarch and water until the mixture is thickened.
7. Add vanilla to the thickened mixture and then pour over the rhubarb.
8. Sprinkle the rest of the crumb mixture over the top .
9. Bake for 1 hour.
1.
2.
3.
Rhubarb Crunch Recipe #2
1 c flour
1/2 c melted butter or margarine
1 c oatmeal
1 c brown sugar
4 c diced rhubarb
1 c water
1 tsp vanilla
2 Tbsp flour
1 c sugar
1. Mix the one cup of flour, margarine, oatmeal and brown sugar into a crumbly mixture.
2. Place half of the mixture into a 9" square pan.
3. Add the rhubarb.
4. In a saucepan cook the water, vanilla, 2 tablespoons of flour and sugar until thickened.
5. Pour the mixture over the rhubarb.
6. Cover with the leftover crumb mixture.
7. Bake at 350 degrees for 45 minutes.
Rhubarb Jello Pie
2 c raw cut-up rhubarb
1 c sugar
1 3 oz pkg jello (strawberry, cherry, raspberry)
1 small container Cool Whip
1 baked pie shell
1. Cook the rhubarb and sugar until it is tender. Stirring to prevent from burning.
2. Remove from heat.
3. Add the box of jello and stir until dissolved.
4. Cool, but don't let the jello congeal.
5. Sir in the cool whip.
6. Pour into the baked pie shell and refrigerate.
Rhubarb Pie
4 c rhubarb, cut into chunks
1 1/2 c sugar
1/4 c flour
1/4 tsp nutmeg
Dash of salt
2 Tbsp margarine or butter
3 well-beaten eggs
Pie crust for a 9" pie
1. Preheat oven to 425 degrees.
2. Mix the sugar, flour, nutmeg and salt together.
3. Pour over the rhubarb.
4. Add eggs and mix thoroughly.
5. Pour into the pie crust.
6. Add margarine and place the top of pie crust on top.
7. Bake at 425 degrees for 15 minutes. Then bake at 350 degrees for 45 minutes.
Cherry Rhubarb Jam
1 c water
5 c raw rhubarb
5 c sugar
1 can cherry pie filling
2 pkg cherry jello (3 oz)
1. 1. Cook the rhubarb in boiling water until tender.
2. 2. Add the sugar and cook a few more minutes. Stir constantly.
3. 3. Add the pie filling and cook 8 more minutes.
4. 4. Remove from the heat and add the jello. Stir it until it completely dissolves.
5. 5. Pour into jars and seal.
6. 6. Store in the refrigerator or freezer until ready to use.
Rhubarb Bread
1 ½ c. brown sugar
2/3 c oil
1 egg
1 ½ c diced rhubarb
2 ½ c flour
1 tsp salt
1 tsp baking soda
1 c buttermilk
1 tsp vanilla
½ c nuts (optional)
1. 1. Preheat oven to 350.
2. 2. Mix the brown sugar and oil in a bowl.
3. 3. Add egg and mix.
4. 4. Add diced rhubarb.
5. 5. Sift together flour, salt and baking soda.
6. 6. Add the dry mixuture slowly to the brown sugar mixture alternating with the buttermilk and vanilla.
7. 7. Add nuts if desired.
8. 8. Bake at 350 degrees for 1 hour.
Rhubarb Strawberry Jello
1 c water
2 c finely chopped rhubarb
1 3 oz box of Jello
1. Mix the water with the the rhubarb.
2. Cook the rhubarb until tender. Then blend in the sugar and Jello.
3. Pour into a glass pan or 4 1/2 oz glasses.
4. Chill until the mixture sets.
Stewed Rhubarb
4 c of rhubarb cut in 1" pieces
1 c sugar
1 tsp grated lemon peel
2 tsp lemon juice
1. Mix all ingredients together in a saucepan.
2. Cook over low heat, stirring until the sugar dissolves and a syrup is formed.
3. Cover the pan and cook over low heat until the rhubarb is tender.
3.